Please e-mail me for current availablity. A Four string MVB-2 is $3,400, a 5 string is $3,800, plus shipping. This includes an ATA approved shipping case & Mooradian gig bag. New York state residents must add 8% sales tax as well. The bass is available for a one week trial period upon receipt of full deposit.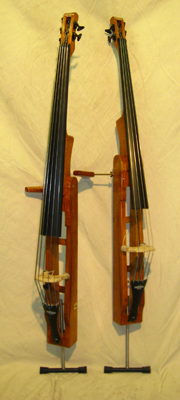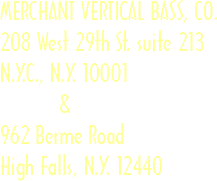 bill@merchantbass.com
917-821-4134
To order a bass you send a 50% deposit along with measurements (if necessary). I am familiar with some of the more common basses without them (e.g. Kay). The two measurements required are the vibrating string length, from the fingerboard side of the nut to the top of the bridge (Fig. #1) and the distance from the same point on the nut to the top of the neck butt (Fig. #2). This is simpler than it may seem. You need to measure along one side of the neck from the bottom of the nut, where the string leaves it, to the top of the neck butt, where your thumb stops.